Church Women United in Tucson
Christian women celebrating unity in diversity and working for a world of peace and justice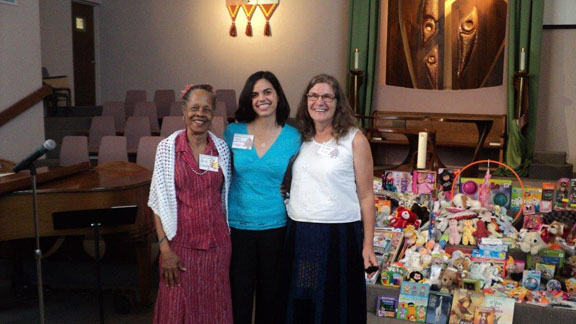 Christmas in September

Mission
Church Women United is a racially, culturally and theologically inclusive ecumenical Christian womenís movement, celebrating unity in diversity and working for a world of peace and justice on local, state and national levels.

History
The national movement of Church Women United was begun in 1941. Church Women United in Tucson began in the late 1940ís. Tucson women have always been leaders in mobilizing our community to benefit women and children. The following programs were our own, initialized, or first brought to the public by CWU in Tucson: Migrant Ministry, Farm Labor and Indian Ministry, Marana Health Clinic, Families for International Friendship (FFIF), Tucson Ecumenical Council, Women in Community Service/ Job Corps, Habitat for Humanity, Armory Park Low Income Housing, Tucson Centers for Women and Children, Youth on their Own and the Healthy Arizona Initiative. Church Women United's history in Tucson is one of being in the forefront of Ecumenical action!
May Friendship Day - First Saturday in May - A celebration of our local community of women and their work.
World Community Day - First Saturday in November - A celebration of the labor of our hands for the worldwide community.
Human Rights Day - Generally celebrated in April.
Christmas in September - A unique Tucson celebration typically held the third week in September.
Church Women United in Tucson